Apollo Saturn V Museum- Kennedy Space Center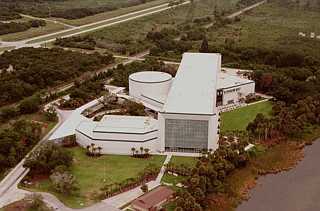 This 38 million dollar showpiece at Kennedy Space Center attracts visitors from around the world. It is equivalent in size to the National Air and Space Museum in Washington DC.
An awe-inspiring monument to the Apollo Program. It houses an actual Apollo Saturn V rocket, which weighs 6.4 million lbs.
The project includes 2 theaters, a restaurant, many other exhibits, and a VIP viewing lounge and terrace from where dignitaries can watch space shuttle launches from the optimum location, being located at the former Banana River viewing sight at Kennedy Space Center.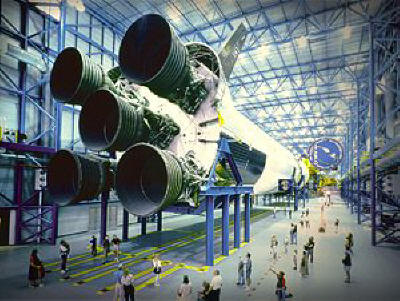 One of the highlight projects of W&J Construction's and my personal career. The project was completed ahead of time and under budget in a 18 month time frame.
Architect: Morris Architects
Customer: Delaware North Park Services
Completed: Dec. 1996
Position: Project Superintendent , closed out Project as Project Manager- W&J Construction- General Contractor
Home | Brevard Courthouse | Saint Mary's Catholic Church | Brevard Community College | Launch Complex 20 | Taft US Army Reserve Center | Apollo-Saturn V Museum | Space Coast Middle School
Site created by Helen Starkweather