The Space Coast Middle School- Brevard County, Port St. John, Florida
This 223,000 square foot EEE prototype Junior High School is located in Port St John's in Brevard County. The school includes a Gymnasium, state of the art Science Labs, Photo Labs and Computer Labs.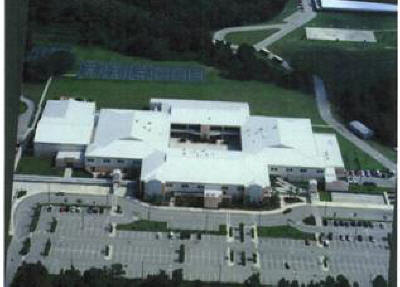 The 4 buildings which make up the campus have balconies which surround the central courtyard. The mechanical and electrical system controls incorporate many automatic functions to reduce operating and maintenance costs and increase energy efficiency.
This 16 million dollar project is a beautiful facility and was built on time and under budget. It will be a landmark building for Brevard County School Systems for years to come.
Architect: Fanning Howey
Customer: School Board of Brevard County
Completed: June 1995
Position: Masonry & Drywall Superintendent for W&J Construction- General Contractor
Home | Brevard Courthouse | Saint Mary's Catholic Church | Brevard Community College | Launch Complex 20 | Taft US Army Reserve Center | Apollo-Saturn V Museum | Space Coast Middle School
Site created by HALOwebs.com